Quick Summary:
The Sleepgram Pillow contains two inserts that contain down fibers which allow it to remain flexible yet maintain its shape. The combination of the soft, low-loft pillow insert with the firmer, mid-loft insert creates a sturdy, high-loft feeling.
Pros
Customizable firmness
Hypoallergenic filling
Breathable cotton cover
Two sizing options
Washer and dryer friendly
Includes a 100-night trial and a lifetime warranty
Orders over $100 qualify for free shipping in the contiguous U.S.
Cons
The pillow is too soft for some
Too warm for some people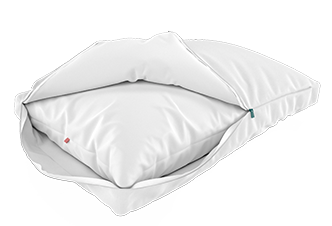 The Sleepgram Pillow
Luxury Comfort
Lifetime Warranty
Allergen Resistant
Brief Description
The Sleepgram Pillow is comprised of three different layers. The pillow comes in a zippered case that holds two pillows inside. The insets can be rearranged to fit the sleeper's desired pillow height and firmness.
The Sleepgram's adaptable design helps it to accommodate many sleep styles, provide firmness options, and produce desired support.
Sleepgram Pillow Rating

Firmness Options: Consumers enjoy the many firmness levels though some say that Sleepgram's firmest level is still too soft for their liking.still too soft for their liking.
Shape Retention: Reviewers say that the Sleepgram Pillow does keep its shape but may need fluffing fro time to time.
Moldability: Sleepgram consumers agree that the pillow can be molded into the desired shape as a result of the pillow's microfiber filling.
Conforming: Reviewers claim that the Sleepgram Pillow conforms well to their neck and head.
Temperature Neutrality: Some consumers express that the Sleepgram Pillow does not seep cooler than a regular pillow.
Odor Potential: Off-gassing was not a reported issue among reviewers.
Weight: Some sleepers voice that the pillow is too dense, making it hard to move.
Ease of Cleaning: Consumers enjoy that the pillow is washer and dryer friendly.
What Type of Sleeper Should Use the Sleepgram Pillow?
Sleepers with different body weights and sleep positions have different firmness and support needs. The chart below illustrates how consumers evaluate the Sleepgram Pillow.
Consumer Sleep Positions and Ratings on the Sleepgram Pillow
Light
Sleeper
< 130lbs
Side 4/5
Back 4/5
Stomach 5/5
Average
Sleeper
130 – 230 lbs
Side 5/5
Back 4/5
Stomach 3/5

Heavy
Sleeper
> 230 lbs
Side 5/5
Back 4/5
Stomach 3/5
Sizing and Pricing
Standard/Queen
Dimensions: 18 in x 26
Price: $40.00 (each for 2)
King
Dimensions: 18 in x 33
Price: $50.00 (each for 2)
Pillow Construction Specifics
The two pillow inserts that make up two of the three components of the Sleepgram Pillow (the other being the hypoallergenic, cotton cover), can be organized in these combinations:

Blue
Classified as the "blue" insert, the softest and thinnest insert can be identified by its blue tag. This insert is ideal for people who enjoy thin, lightweight pillows that are easily adaptable. This pillow works well for stomach sleepers and sleepers who experience neck pain.

Red:
Classified as the "red" insert, the firmer and taller insert can be identified by its red tag. This insert is ideal for people who enjoy a firmer pillow that offers more support. This pillow works well for side sleepers or sleepers who experience shoulder pain.

Blue and Red:
The combination of the blue and red inserts inside the pillowcase produces a taller, firmer pillow. This pillow works well for back sleepers or sleepers who experience back pain.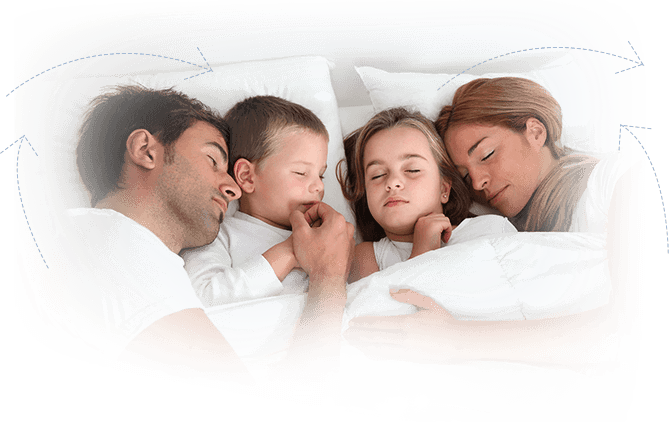 Sleepgram Pillow Washing Instructions
Sleepgram recommends that you remove the pillow inserts from the cover and wash each component separately. Using the "gentle" cycle on your machine, wash inserts and the cover on low heat with a liquid detergent. To keep the microfiber intact, tumble dry with dryer balls.
Shipping Policy
Shipping is available in the U.S., including Puerto Rico, Guam, the Northern Mariana Islands, the U.S. Virgin Islands, American Samoa, and the Federated States of Micronesia, and Canada. The contiguous U.S. can enjoy free shipping for orders over $100.
Warranty

The Sleepgram Pillow has a lifetime warranty for production defects.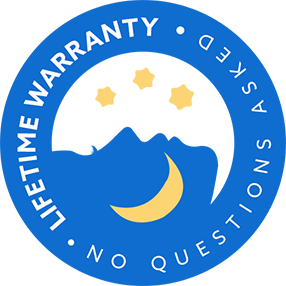 Trial Period

Consumers can enjoy a 100-night sleep trial. The pillow should exhibit a like-new condition and have all tags and parts to be able to make a return. Consumers should include proof of purchase for their returns but do not have to return their pillow in its original packaging.
Consumers can call 877-257-5337 or email help@sleepgram.com to return their Sleepgram Pillow. Sleepgram will provide consumers with a mailing address as well as an RMA number. Consumers are expected to cover return shipping costs unless their pillow was flawed during the return shipping process.
Once your return is accepted, the company will return the amount you paid to your original payment method within a 5-14 day period after it has received your return.
Get a 100-Night Free Trial Now!
Our readers get a 100-night free trial!